Welcome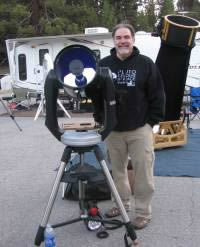 Welcome to my new web site! Here I would like to share some of the astro photographs that I have taken over the past year. I wanted to document my journey where most astrophotographers have traveled! Visit my Photo Gallery. I always try to improve my techniques, I hope you enjoy the images!

I have a my own personal philosophy of astrophotography: "Keep it simple." I realize that this hobby is a serious venture for many observers. It can be all-encompasing and costly. My objective has always been to have fun and keep learning.
By nature, I am not one who simply "flows with the group thought." I always search for a different way of approaching a challenge and since I have always had an interest in electronics and mechanical devices I try modifying my own equipment as long as it has been previously documented and accepted as safe and legitimate.
I marvel in the amount of knowledge and experience there is on the different astronomical blogs. Reading and trying to understand new and challenging topics will keep astrophotography a hobby that will challenge me for years to come.
News and
Current Events
Ventura County Astronomical Society
October 19, 2012
The Mars Curiosity Rover - and Update
Guest Speaker: Kirk Breitenbach, JPL Engineer
....more information here
October 20, 2012
VCAS Star Pary Mt. Pinos
....more information here